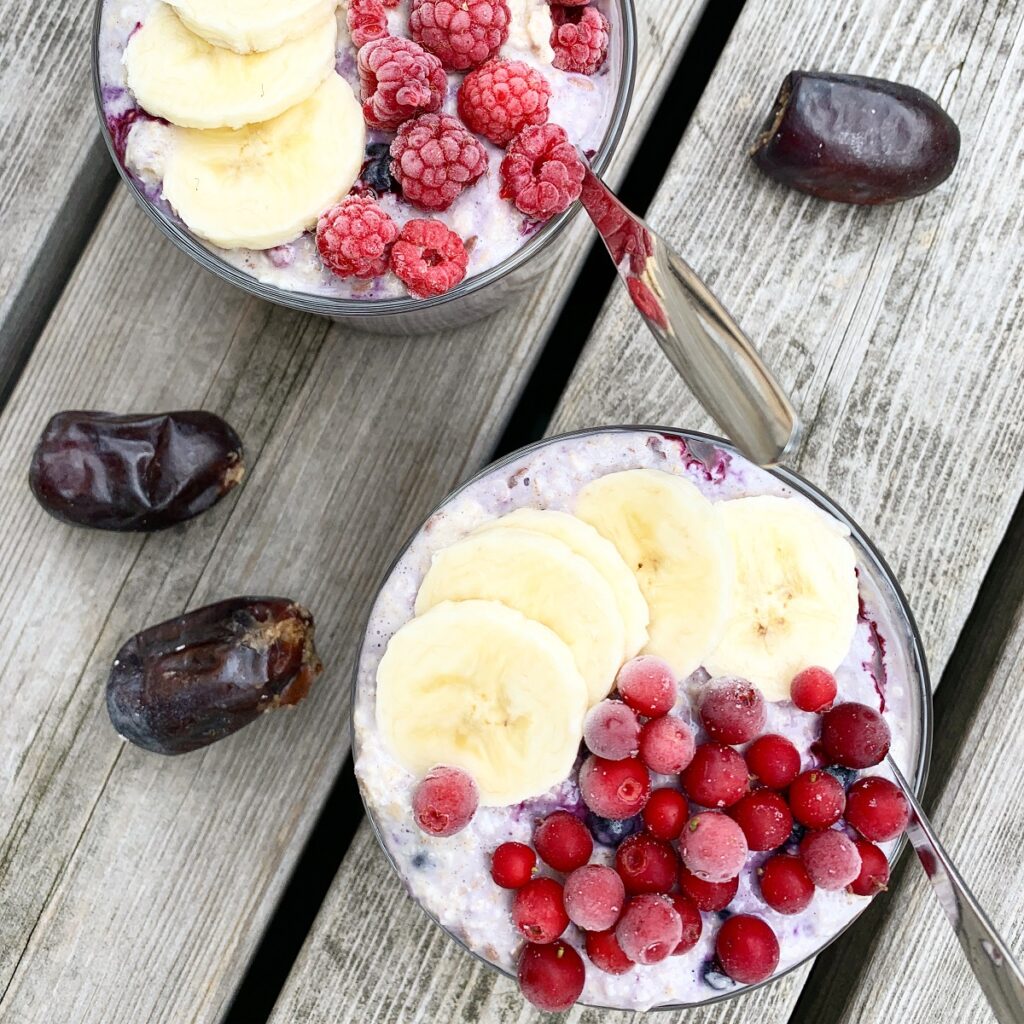 Recipe in Finnish / Resepti suomeksi
The earlier overnight oats recipe I posted was one of my favourite breakfasts for a long time. It still is but with time the recipe has transformed into a even more simple one. As you may know by now, above all I prefer simplicity and quickness when it comes to food and time spent in the kitchen.
I have stuck to dates when it comes to sweetening my breakfast. Dates bring simply the best flavour. I have been buying fresh dates lately which are much softer than the dried ones and taste so much better. Since I discovered fresh dates, we have kept a box of dates in our fridge for an emergency treat and a quick energy fix.
Dates are full of carbs but they do contain, for example, tummy friendly fibre. Dates are also full of vital micronutrients, such as calcium, iron, potassium, zinc and different vitamins. This is another good reason to use dates as a sweetener.
You can use what ever berries you prefer in the recipe. If you use more of the sour berries like red currants or cranberries, you may want to add more sweetness. I have a freezer full of bilberries (wild blueberries) and wild raspberries, so I like using those. I normally use both, one half bilberries and another half raspberries. While I still have lingonberries in my freezer, I like adding them on top of my porridge.
If you use frozen berries, it will take a little longer for the porridge to be ready. But if your berries are fresh or defrosted, the porridge is ready in no time.
This recipe makes 1 portion.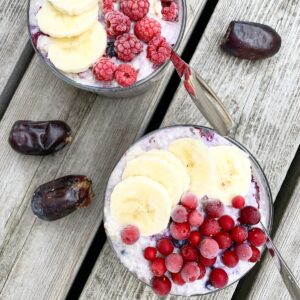 Vegan Raw Oat Porridge
Ingredients
150

ml

oat milk (unsweetened)

generous 200

ml

quick oats

1

date

1

tbsp

linseed

100

ml

berries
Instructions
Pour the oat milk into a jug and add the date. Use a stick mixer (or blender) to puree the date.

Add the rest of the ingredients and mix. Let the porridge sit for a little while. If the berries are frozen let the porridge set on a kitchen counter in room temperature and wait until the berries have defrosted.