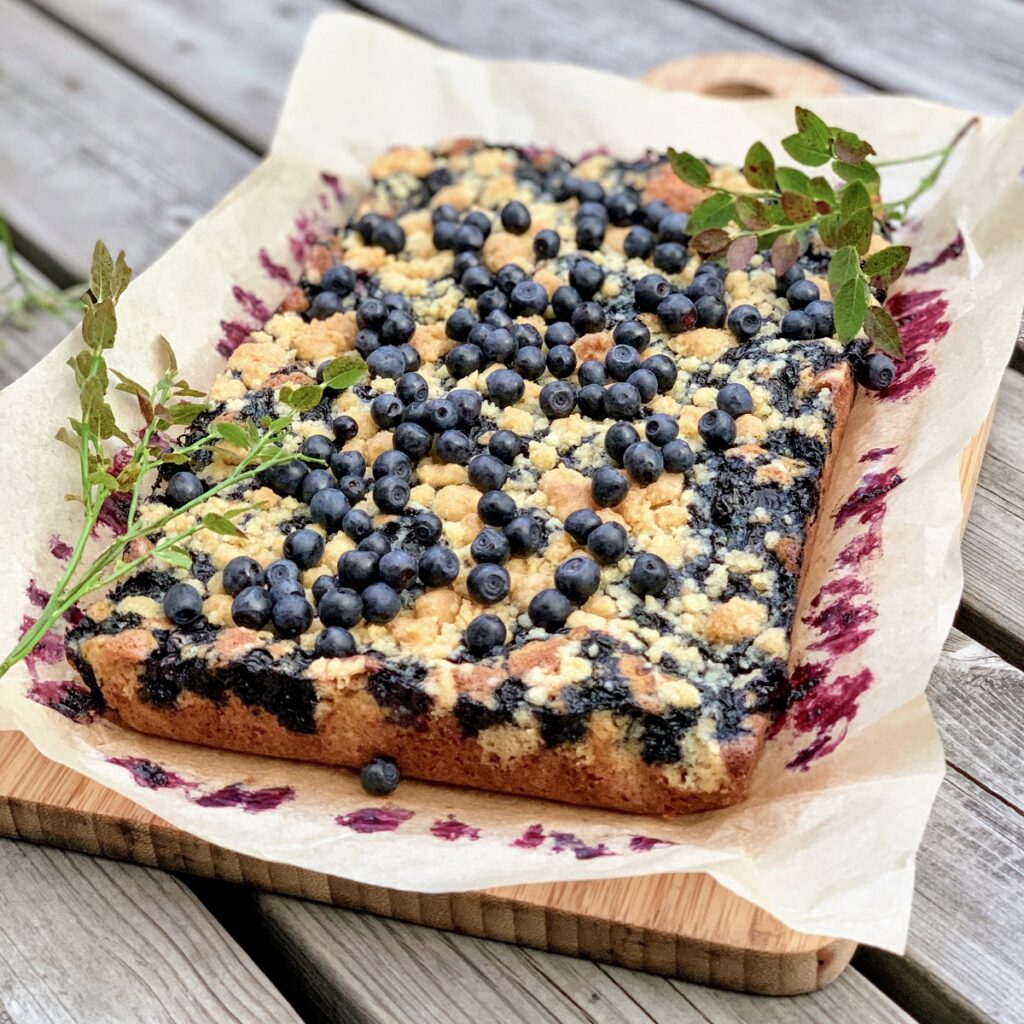 Recipe in Finnish / Resepti suomeksi
Here is a simple and scrumptious blueberry pie recipe, and it may be the only recipe you will need after this. The bottom is soft and juicy and on top you have a crunchy crumble. The crumble on top is the high light of this pie! If you are like my children or husband, you want to have some vanilla ice cream or vanilla custard with the pie but personally I don't think this pie needs it.
This recipe is from my godmother. This pie, just like the herring salad, is a part of our summer and visits to my godparents summer cottage. Not a day goes past without an afternoon coffee break at the cottage and this pie is an easy and fairly quick treat to make to rescue those special coffee moments. You just need to melt the butter and mix all the ingredients, no whipping needed.
Well, the berries need to be picked up first. I used 500 ml (2 cups) of berries for this pie but you don't need quite that much, so the picking shouldn't take that long. If you can't get hold of fresh berries you can use frozen ones. If you use frozen berries, use little less of them as they are more watery than fresh ones.
This pie is very simple to make and what makes it great is the fact that it follows seasons. The filling doesn't have to be berries. We use rhubarb when it is the rhubarb season and in the autumn the pie turns into an apple pie. In my opinion the best berries to use are the blueberries and red currants.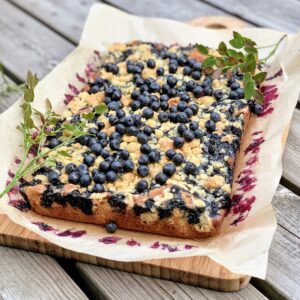 Blueberry Pie
Ingredients
200

ml

sugar

400

ml

flour

125

g

butter melted

1

ts

baking soda

1

ts

vanilla sugar

100

ml

buttermilk, natural yogurt or sour cream

1

egg

300-500

ml

fresh berries
Instructions
Melt the butter and let it cool down slightly.

Combine sugar, flour, soda and vanilla sugar in a bowl and mix. Pour the melted butter over and mix into a crumble.

Set ⅓ of the crumble aside.

Add the buttermilk/natural yogurt/sour cream and the egg in with the rest of the crumble. Mix into a smooth batter. I like using hand whisk for this but I don't whisk it as such. It doesn't matter if there are some crumbly bits left in the dough.

Line the dish with baking parchment and pour the batter into it. Sprinkle with the berries and lastly the crumble you set aside.

Bake at 200° C for approximately 30 minutes until golden brown. If you can see the dough is still loose in the middle when you move the dish, add 5 minutes to the baking time or bake until the pie is completely set. 30 minutes was enough in my oven.