Recipe in Finnish / Resepti suomeksi
Season's very first new potatoes are often quite pricey but once the potato season gets going we love having new potatoes. A new potato doesn't necessarily need anything else but real butter and a touch of salt on its side, but little variation is always welcome.
I think most children don't like herring but our children have liked herring as long as I can remember. So herring has always been a part of our summer kitchen. It is perhaps more of a Scandinavian tradition to have new potatoes with different kinds of herring. One of our favourites is mustard flavoured herring.
But then there's this herring salad which in my opinion the best companion to new potatoes. The recipe comes from my godmother. She makes this herring salad every summer when we visit her summer cottage and it is something she makes for Christmas dinner table too! We know it as "herring mess" but I thought I'd call it something nicer for the blog, so it became a herring salad.
This Scandinavian style herring salad is a lovely blend of different flavours – salty herring, fresh cucumber and sour apple. If you don't like eggs for some reason, you can leave it out and the salad is just as good without it. However, the egg is a part of the original recipe and blends in perfectly with the rest of the flavours. The egg makes the salad more filling with that extra protein.
If you have any herring salad left over, you should try it on a thin slice of rye bread or crispbread. A perfect match and a summery snack!
I tried to google herring fillets and tried to find similar ones that I use, that would be available around the world. I use vacuum-packed boneless matjes-fillets, which are flavoured with salt, sugar, vinegar and a mixture of spices (dill, allspice, cinnamon, ginger, oregano, clove), so try to look for something similar. I think Ikea could be your best bet – this is the one to use.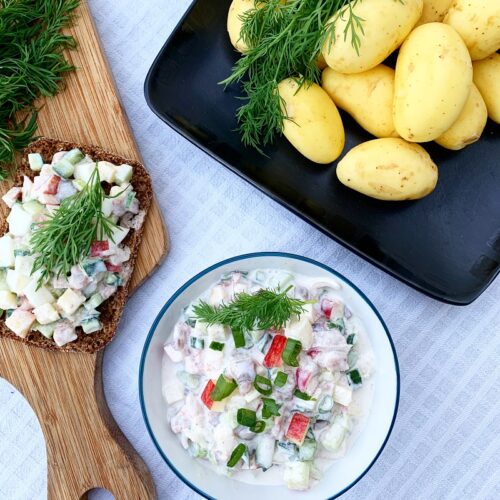 New Potatoes and Herring Salad
Scandinavian style herring salad
Ingredients
new potatoes

150-200

g

marinated matjes herring

1

small red apple

½

cucumber

1

summer onion with green stalks or small yellow onion

200

g

creme fraiche

2

hard boiled eggs

fresh dill (optional)
Instructions
Boil the eggs hard (8 minutes is enough). Let them cool down.

Rinse the apple, don't peel. The red peel brings colour to the salad. If you don't like the peel, then just peel it – no harm done there 🙂

Cut the apple, cucumber, herring, onion and eggs into small squares. Place everything into a bowl. Add the creme fraiche (and chopped dill). Mix and that's it!