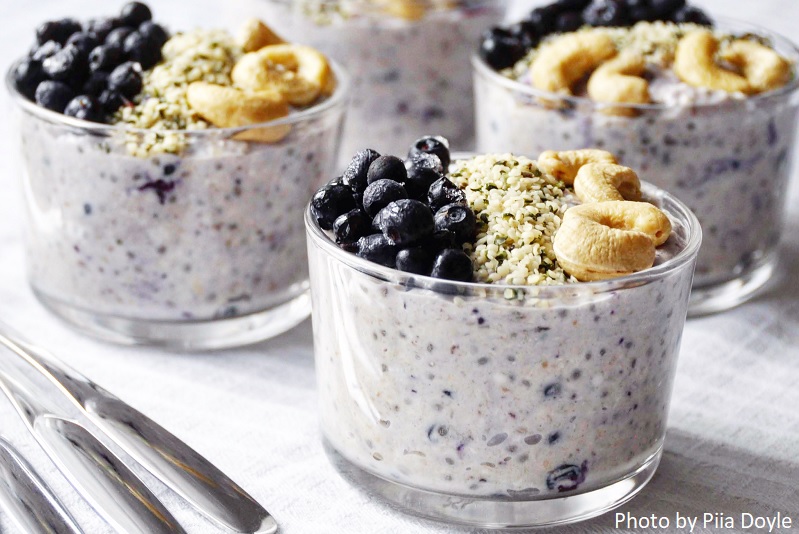 Recipe in Finnish / Resepti suomeksi
Overnight oats are a handy breakfast, and why not a snack too! It is really easy to prepare. Just mix the ingredients in a container or jar that has a lid. If you prepare the oats the night before, your breakfast is ready to be eaten when you wake up and no time is wasted in the morning to prepare breakfast. If you prefer having breakfast little later at work, just take it with you! Just make sure the lid is solid so you don't have a nasty surprise waiting for you. Oats should keep you satisfied until lunch, especially if you choose to top the oats with nuts and seeds.
This recipe is one of my favourite breakfasts and the family loves it too! I have used wild Finnish bilberries, aka blueberries, for the recipe as we have our freezer full of them. I am sure what ever blueberries you can get hold of will work just as well. During berry season I opt for fresh berries.
I have used both maple syrup and dates to sweeten the oats. Maple syrup is quicker but I just love the taste of dates and their flavour, so I opt for the dates mostly. Runny honey works well too. You can either prepare the oats the night before or in the morning if you have little time to wait. If you use quick oats like I do, your breakfast will be ready to eat in 30 minutes.
I like to top my oats with berries, banana, hemp seeds and nuts. You can choose what ever you like or you can eat it as it is.
Enjoy your brekkie!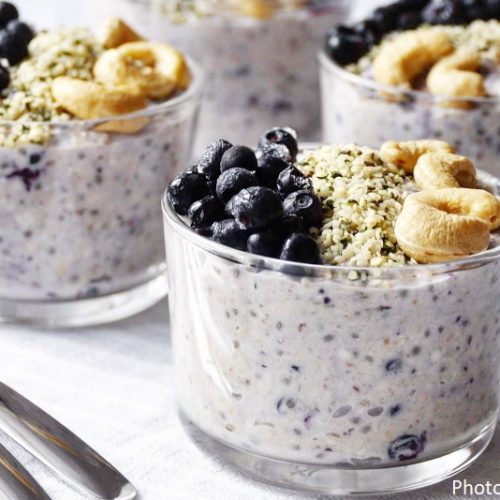 Blueberry Overnight Oats (V)
Ingredients
100

ml

unsweetened oat yogurt

200

ml

unsweetened oat milk

1

tbsp

chia seeds or linseed/flaxseed

1

tbsp

maple syrup or 4-5 dates (or runny honey)

100

ml

blueberries

200

ml

(quick) oat flakes
Instructions
If you use maple syrup (or honey) as a sweetener, you can just measure all the ingredients into a container and mix them together. If you prepare the oats in the evening put the closed container in the fridge over night. If you prepare the oats in the morning leave the mixture in the room temperature. The berries will melt quicker that way.

If you use dates to sweeten the oats, then only measure the yogurt, milk and dates into the container. Use a stick mixer/hand blender and puree the dates. Add the rest of the ingredients and mix well with a spoon and leave to settle either in the fridge or counter top.

Mix the oats before serving. That way the oats will get more flavour and colour from the blueberries.