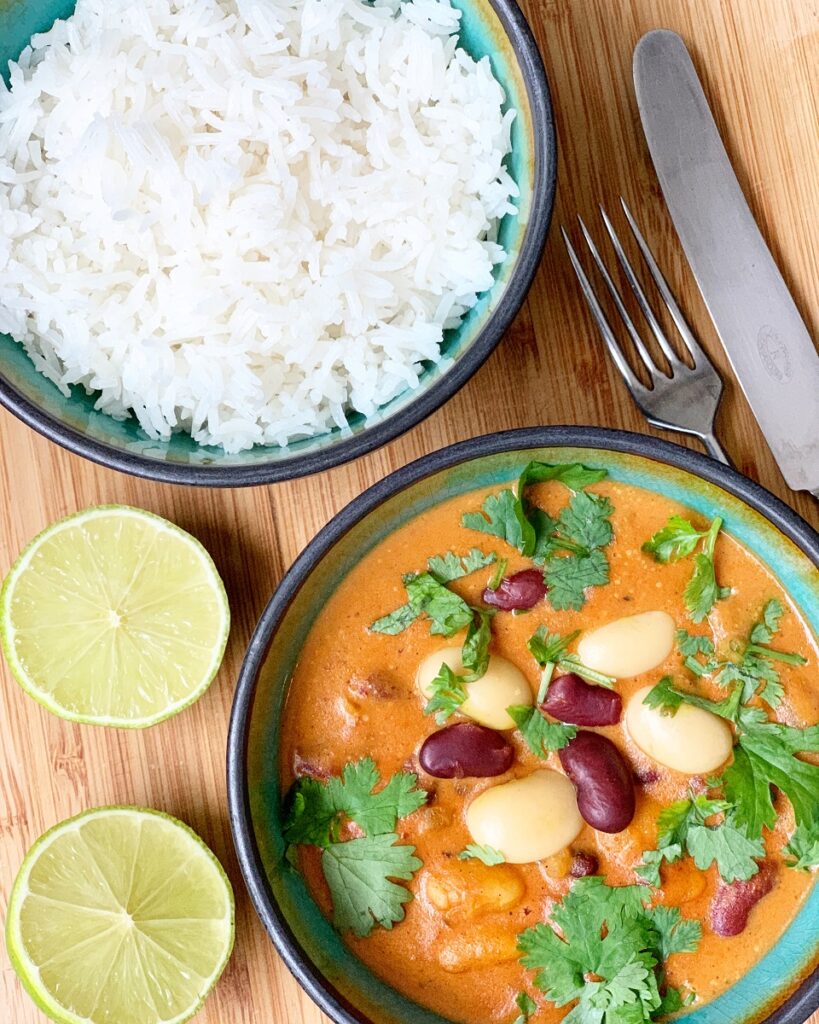 Recipe in Finnish / Resepti suomeksi
I have been wanting to share my super easy curry recipe here for a while. With the same basic recipe you can make any kind of curry from veggies to chicken. It even works with beans! The base for the curry is sieved tomatoes (tomato passata), coconut milk and a few spices.
The idea for this bean curry came from my sister. She had made a delicius bean stew and she sent me the recipe. The recipe had canned tomatoes and coconut milk, which reminded a little of my own curry recipe. I had never made curry with beans only, so I decided to give it a try. It really worked, and I have made this curry several times since.
So here we have another easy, quick and delicious weekday dish. I like to serve it with rice. I make this curry with red kidney beans, cannelini and/or butter beans. You can alter the ratio of beans as you wish. Perhaps you like red kidney beans more than white beans? Then use 2 cans of those! I like using 3 cans of beans for this recipe.
Do you struggle with cooking rice? With this recipe you will succeed with your rice every time.
Easy Vegan Bean Curry
Ingredients
1

onion

2-3

gloves of garlic

2-3

tbsp

oil

1

tbsp

curry powder

1

tbsp

garam masala

1

vegetable stock cube

2

cans

white beans (cannelini or butter beans)

1

can

red kidney beans

1

can

sieved tomatoes (tomato passata) – 500 g

1

can

coconut milk (400 ml)

(1

tsp

salt)

(fresh coriander)

(lime)
Instructions
Chop the onion and garlic. In a pot, heat the oil and sauté the onions over a gentle heat until they have softened.

Rinse the beans and add them into the pot. Add the spices and the stock cube next and mix in.

Add the tomatoes and coconut milk. Stir and let simmer for a little while or longer, depending on how hungry you are.

Serve with rice and sprinkle some lime juice and fresh coriander on top if you like.