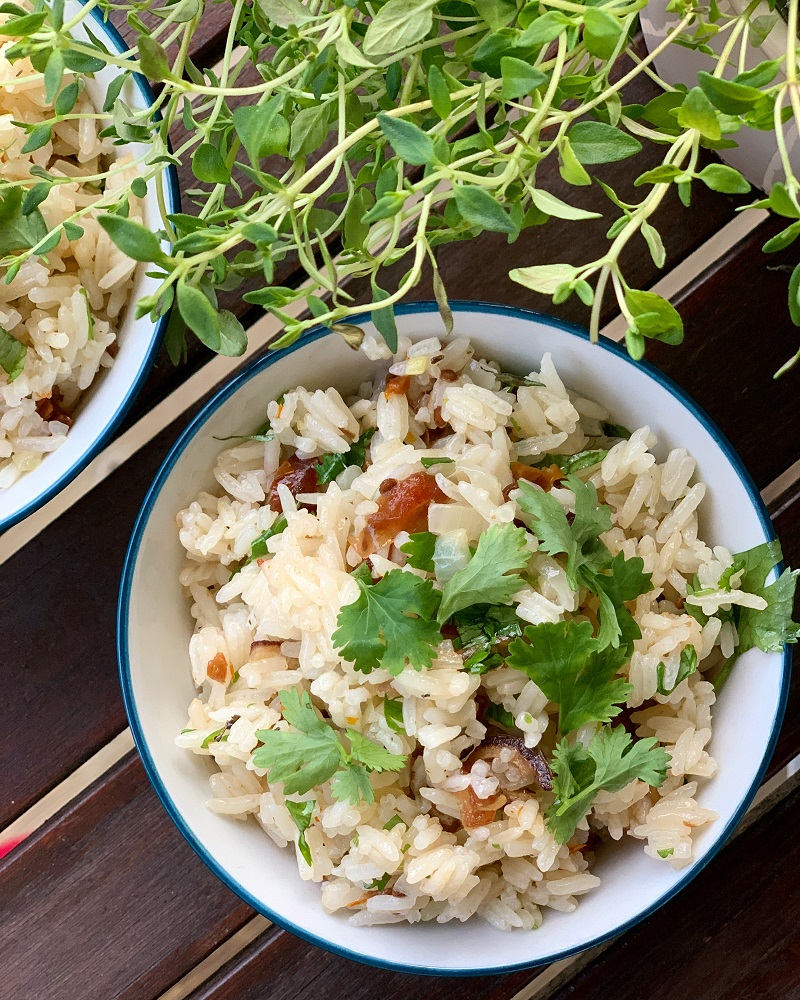 Recipe in Finnish / Resepti suomeksi
I created this recipe some years ago while we were living in Lanzarote. We loved rice, but I often ran out of ideas of what kind of sauce to make with it. We were used to eating rice with some kind a sauce – always. I thought there must be another way to eat rice and this recipe came about.
This flavoured basmati rice recipe combines some of our favourite ingredients: sun-dried tomatoes, dates and fresh coriander. I prepared the dish once and it was to stay with us. There is just something about the combination of these flavours that makes the dish so lovable.
The best rice for this recipe is basmati rice or the aromatic jasmine rice. Do not replace it with regular long grain rice or brown rice. I tested it and it doesn't work.
Just a litte insight into rice facts if you didn't know already. Although white rice is poorer in nutrients than whole grain rice, the moderate glycemic index (GI) speaks in favor of basmati rice. Basmati rice digests in our body more slowly than regular white rice. It keeps your blood sugar levels even for longer period of time and energy flows into your muscles at a more even rate compared to regular white rice. So no need to feel bad about eating basmati rice – if you ever did.
The dates bring a nice sweet flavour to the rice. Although tuning recipes is rewarding, and you can't always find the right ingredient in the cupboard, don't replace the dates with raisins or apricots. I tested that too and it is just not the same!
This recipe is enough for 4-5 people if you serve it as a side dish.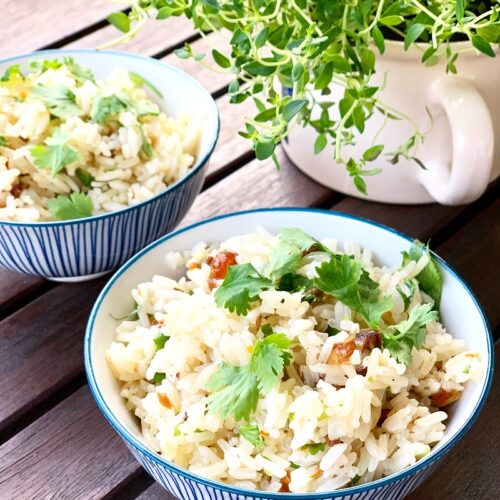 Flavoured Basmati Rice
Ingredients
1

small onion

2-3

tbps

olive oil or oil from sun dried tomatoes

300

ml

basmati rice

500

ml

water

1-2

tsp

salt

sun-dried tomatoes

fresh coriancer

dates
Instructions
Chop the onion. Add the oil and onion to the pan and cook with low-medium heat until the onion has softened.

Rinse the rice and place in the pan with onions. Add (cold) water and the sun-dried tomatoes. Bring to boil and let simmer under a lid until all the water has dissolved. This takes about 15-20 minutes.

Remove from stove and mix. Add the dates and fresh coriander just before serving. I chop them directly to the pan with scissors.