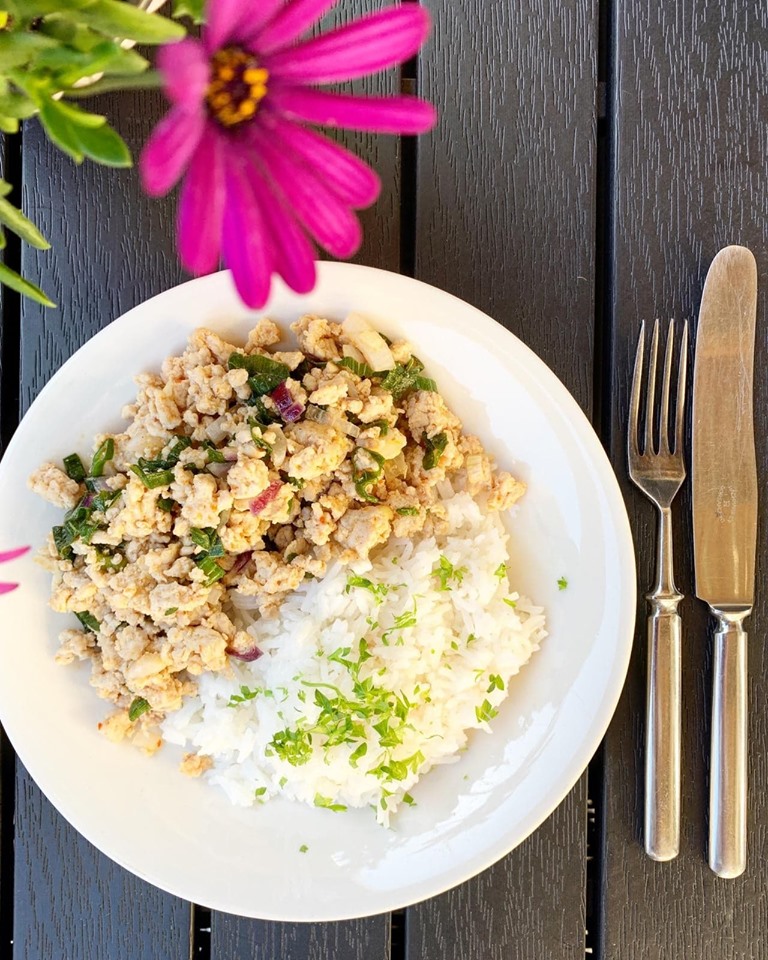 Recipe in Finnish / Resepti suomeksi
My sister spent few months in Thailand with her family 5 years ago. She had taken part in a Thai cooking course while there. She came home with a suitecase filled with this spice mix and taught us all make Thai Laab. We all loved it!
Thai Laab or Larb is a meat salad made with minced chicken. You could also make it with minced pork or beef but we have just stuck to chicken. Laab is very quick to make and only has few ingredients – so this is another life saviour recipe when it comes to weekday dinner times. You just need to stack up on the Laab spice mix, so you always have some in the pantry. You can get it in Asian / Oriental supermarkets and perhaps some well stock supermarkets also have it in their selection. In Finland you need to find an Asian shop. Let me know if I am wrong. This is the one I get, Knorr also has their own Laab mix.
The main ingredients in the spice mix are roasted rice, dried chili, citric acid, salt and spices. It is the roasted rice that gives Laab its unique flavour, which is difficult to explain. You just need to try it to know what I am talking about. Laab also has a citrusy tang and a bite from chilies. The spice mix is quite hot, and that is why I only use little bit of it in this recipe. If you like a proper kick in your food feel free to add more of the spice mix into the recipe.
We normally eat Laab with basmati rice, simple as that. If you are having a low carb day, why not fill salad leaves with it. Enjoy!
This recipe feeds 4-5 people, so if you are only cooking for 2 and don't want any leftovers just half the ingredients.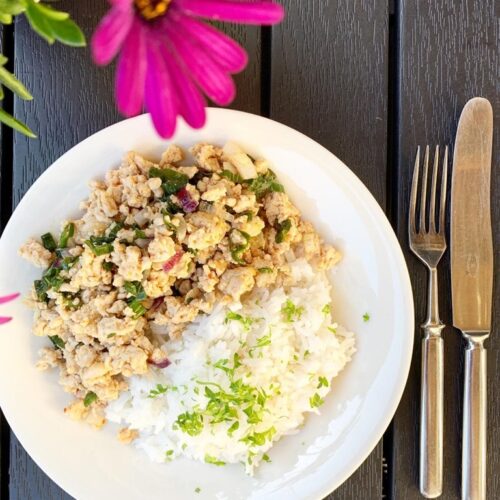 Thai Laab
Ingredients
basmati rice

2

tbsp

olive oil

800

g

minced chicken

1

tbsp

Laab seasoning mix

1

tsp

salt

1

large red onion

1

bunch of spring onion or green onion stalks
Instructions
Start by cooking the rice according to instructions on the packet.

Heat up the oil in a pan and add the chicken mince. Add the salt and Laab seasoning mix while frying. Fry until the chicken has got little colour and it is cooked throughout. Remove from heat.

Chop the red onion and spring onion. Add to the chicken and mix. You don't need to cook the onions any further. They will soften enough in the hot pan.