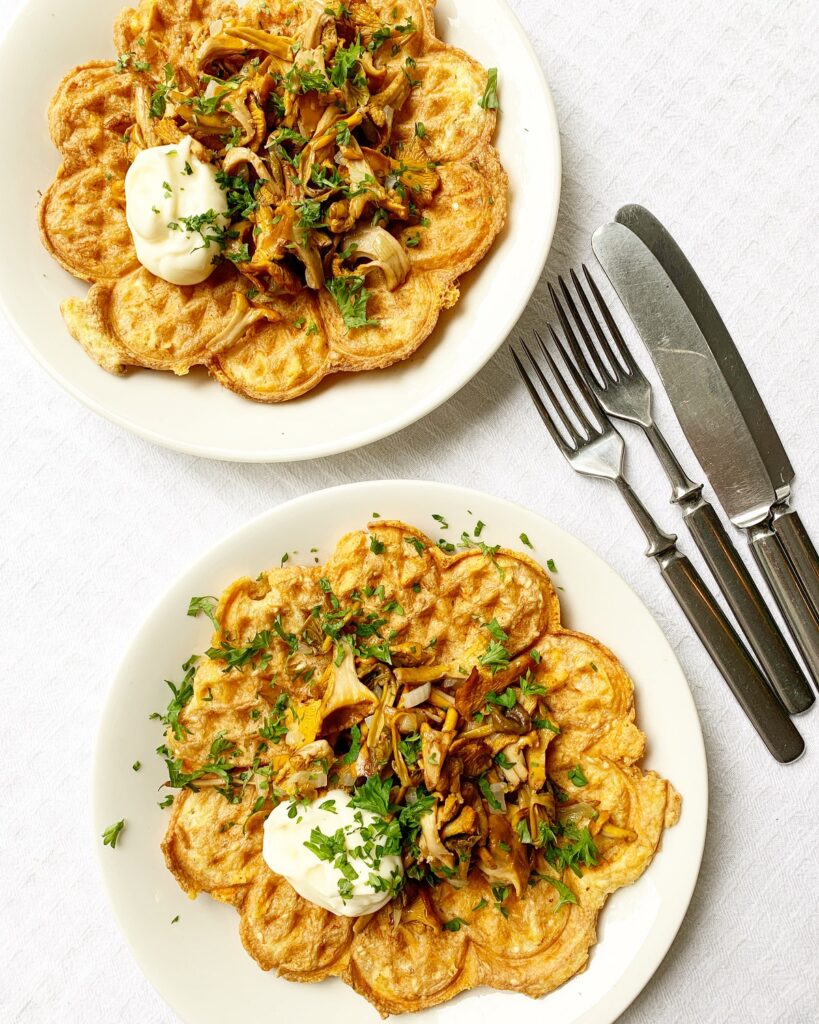 Recipe in Finnish / Resepti suomeksi
I was keen to try these so called keto waffles when I first heard about them. I thought they were great and even my husband and son are making them now. They work well as breakfast, lunch, supper and snack, especially when you are hungry and want something to eat now. This waffle dough is ready in a few seconds!
We prepare "the dough" one waffle at a time. You just need to mix an egg and grated cheese in a small bowl and pour it into your waffle maker. If you want to have something on top of your waffle you can prepare it while you wait for the waffle to get ready.
My husband avoids carbs certain days, and those days these waffles come in handy. I at times try to avoid eating carbs during the first meals of the day, and also then the waffle iron is steaming.
I add a spoonful of sesame seeds into my waffles, while the others make them without – why complicate a simple recipe!
When it comes to cheese I try to choose cheese with little less salt. Edam or mozzarella are my favourites for the waffles. The main ingredient is cheese and there is plenty of it, so if the cheese is very salty the waffle will be too salty. But test different kinds and find your own favourite.
What should you have on top of your waffle then? I am yet to try whipped cream and strawberry jam, but I can't see them not tasting nice. While my husband eats these waffles as they are (why complicate things, huh?), I like having mine with a salad. I pile little lettuce, tomato and cucumber (or whatever there is in the fridge) on top of my waffle and add some mayonnaise.
Yesterday I picked up some mushrooms in the forest and they ended up on these waffles and photos. I would have preferred a dollop of creme fraiche with the chanterelles but I didn't have any. Mayonnaise hardly ever fails and worked well too!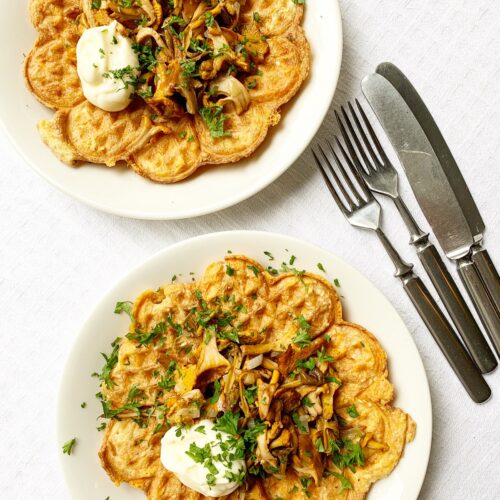 Low Carb Waffles
Ingredients
1

egg

100

ml

grated cheese (less than half a cup)

(1

tbsp

sesame seeds)
Instructions
Mix the egg and cheese (and sesame seeds) in a small bowl.

Pour the mixture in the middle of a hot waffle iron. Bake until golden brown.