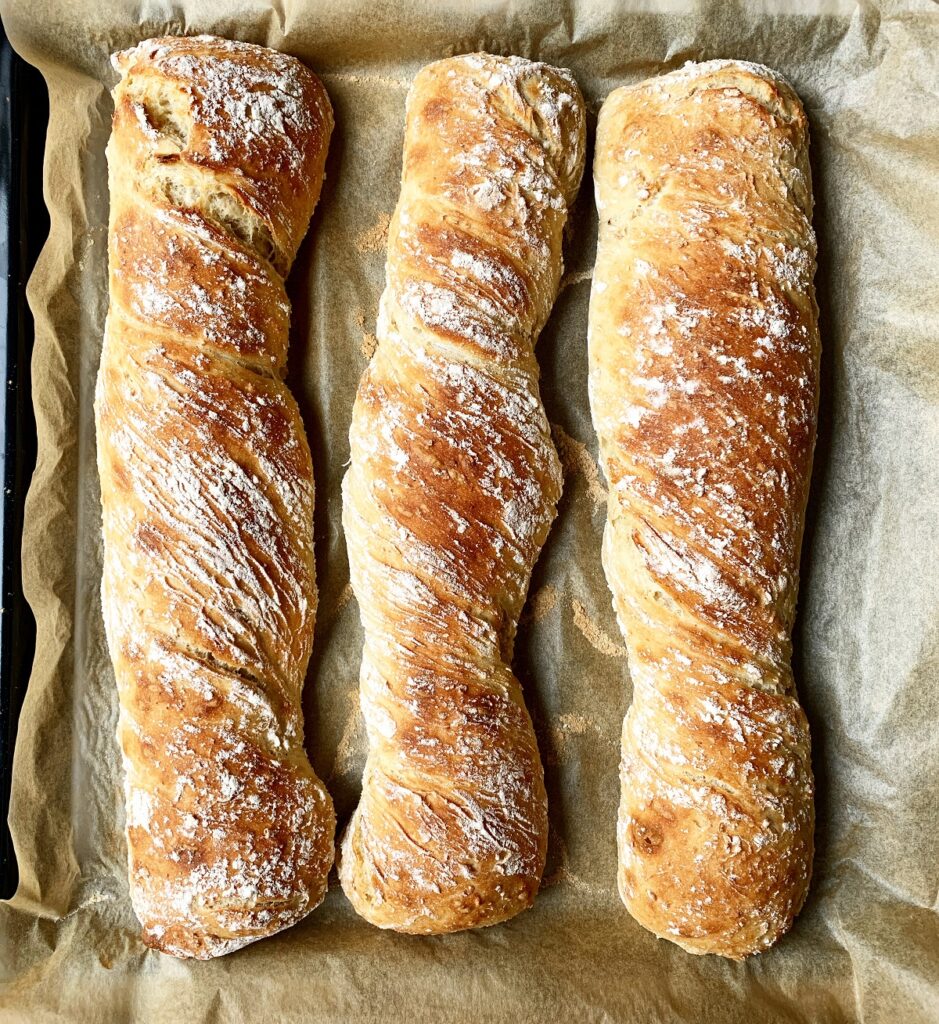 Recipe in Finnish / Resepti suomeksi
I found this recipe when we were living in Sweden. I have made these baguettes many many times and often served them to our guests too. There's hardly ever been leftovers!
These baguettes are moist and soft on the inside while the surface is left slightly chewy-like. Just the way I like it! The dough is easy to prepare and requires no kneading, and that's why I like making these! Sure, you need to wait for the dough to raise but otherwise you will make these baguettes with ease. I promise your family, and the lucky guests, will enjoy your freshly made baguettes!
These will go well with my Coconut Tomato Soup.
If it happens that some baguette is left over until next day, I like to cut the baguette into smaller pieces, spread some butter, crushed garlic and cheese on top. I throw them in the oven (200 degrees C) and bake until crispy and golden. I promise there will be no leftovers this time!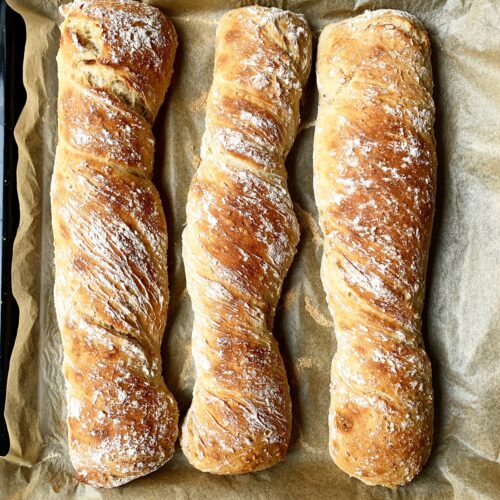 Oat Baguettes (dairy free)
Ingredients
25

g

fresh yeast or 1 sachet of dried yeast (11 g)

2

tsp

salt

1

tbsp

honey

600

ml

lukewarm water

250

ml

oat flakes

650-700

g

plain flour (just over 1000 ml = 1 litre)
Instructions
Dissolve yeast in water in a large bowl. Add salt and honey. Mix until all the ingredients are dissolved.

Add oats first and mix, and then all the flour. Mix into an even dough with a wooden spatula or similar. The dough should be soft and slightly sticky.

Sprinke over with flour and cover the bowl with a cloth. Let the dough raise for 1-2 hours.

Pour the dough on a well floured kitchen surface. Do not knead the dough as you don't want to destroy the bubbles!

Divide the dough into 3. Form 3 baguettes that are as long as your baking tray. You need plenty of flour here. Twist the baguettes, if you wish, as you are placing them onto the baking tray covered with baking parchment.

Sprinkle the baguettes with little flour and bake straight away for about 15 minutes.

Let the baguettes cool without covering them.