Recipe in Finnish / Resepti suomeksi
A couple of years back my sister made us siblings this tomato soup which in my opinion had "very interesting" ingredients to be a tomato soup. I must admit I was quite skeptical about it but it turned out to be very yummy. I fell in love with it from the very first spoonful, you could say.
We eat tomato soup quite often in our house nowadays. It is such a quick meal and it's something our girls eat willingly. My basic tomato soup recipe is indeed very basic and I was worried this Coconut Tomato Soup would perhaps be too exotic as it has an exotic taste and a flavour you perhaps would not expect from a tomato soup. Well, I didn't need to worry as everyone enjoyed it!
The Coconut Tomato Soup is flavoured with cumin, coriander and lime, whereas chickpeas and coconut milk add substance to it. Yep, this soup is way more filling than the average tomato soup and it has made a welcomed change to our tomato soup days!
The original recipe is from a Finnish vegan food blog Chocochili. I haven't made many changes to the recipe – why change something that works so well. Even though the original recipe was quite quick to prepare, by making few small changes I was able to make it even more simple. I also doubled the recipe so it would feed our crew. This recipe is enough for 4-6 hungry diners.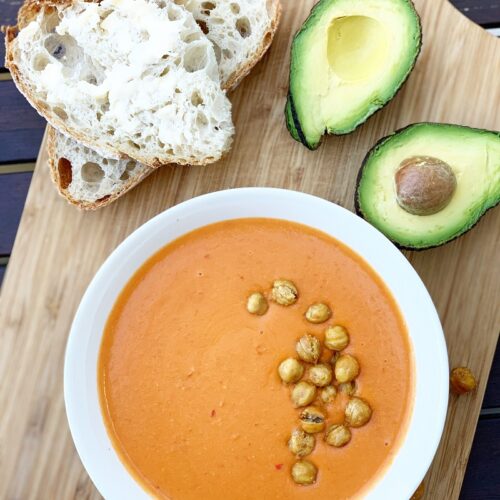 Coconut Tomato Soup (V, GF)
Ingredients
2

tsp

ground cumin

2

tsp

ground coriander

(½-1

red medium chilli)

2

tbsp

coconut or olive oil

1

onion

1-2

gloves garlic

2

cans

tomatoes (diced)

1

can

chickpeas

1

lime squeezed

1

tsp

salt

1

tsp

sugar or other sweetener

1

can

coconut milk
Instructions
Heat oil, coriander and cumin in a pan. Sauté for a short while.

Add onions and garlic (+ chilli) and sauté until soft.

Add chickpeas and tomatoes. Bring to boil and simmer for 10-20 minutes depending on how hungry the crew is.

Purée the soup. Add the coconut milk, lime juice, salt and sugar, and give it a quick mix. Voila!