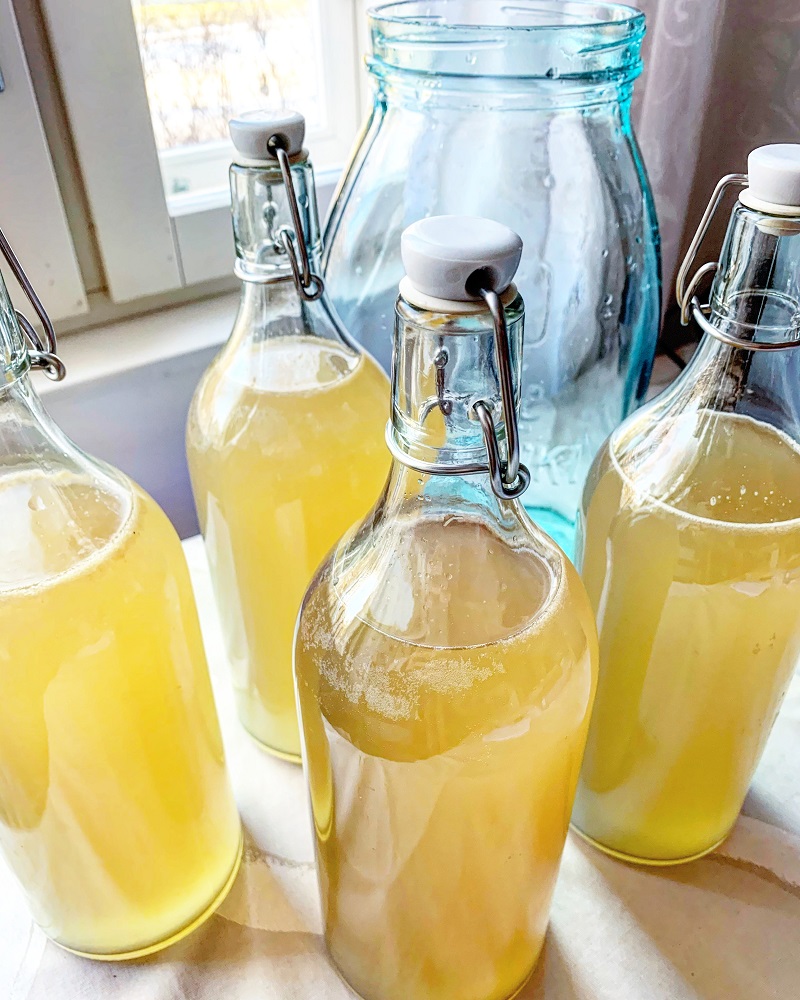 Recipe in Finnish / Resepti suomeksi
A year has passed since I bottled my first batch of kombucha. Already then, I wanted to share the recipe with everyone I knew and acquaint them with this trendy health drink. Kombucha is a fizzy fermented tea drink which contains probiotics and is less sugary than regular soft drinks. The taste is difficult to describe. For us Finns the taste resembles a drink we call "sima" (mead in English). Kombucha is slightly sour with an underlying sweetness and depending on the added flavour it can even be citrusy, fruity or floral.
I am completely under the spell of kombucha, and have a batch of kombucha constantly brewing at the kitchen top so I don't run out.
What Do You Need To Make Your Own Kombucha?
You need water, sugar and tea to make kombucha. The tea can either be loose tea or tea bags, green or black according to your preference. Personally, I use green tea bags, just the cheapest brand I can find in the store. But then you also need the kombucha culture, aka Scoby, as well as a large glass jar (or two smaller ones) and a breathable cloth. And of course glass bottles to bottle it.
I have used both screw top and swing top bottles. I prefer the swing top ones and have bought mine from IKEA. Both fit the purpose well.
Scoby aka Kombucha Culture
Name Scoby comes from the words "Symbiotic Culture of Bacteria and Yeast" and that is exactly what it is. It is a fungal growth that turns sweet tea into kombucha. It is an ugly looking slimy growth but if you want to make your own kombucha you will need to get one.
I got mine through a Facebook group, so ask around to see if anyone is making kombucha in your own home town and could spare a Scoby. You can also order Scoby online (Amazon for example sells them) or look for instructions online how to make your own Scoby by using store-bought raw kombucha. With the Scoby, you should also get a small amount of ready-made kombucha drink. You will need this as a starter liquid for your own drink.
Every time you brew a batch of kombucha the Scoby (mother) will "give birth" to a new Scoby (baby). The mother Scoby will sink to the bottom of the jar and the baby Scoby will grow on the top of your kombucha brew or as a new layer on top of the mother Scoby. So once you got your first Scoby and start brewing, you will have plenty more Scobys to look after or give away.
How To Make Kombucha
The first couple of times you make kombucha is a learning process. I promise it is easy but it will take a coupe of times to find out what is the right amount of fermentation to suit your own taste. The longer you leave your kombucha to ferment the less sweet it is. In the end it will turn into vinegar, so you want to bottle it up before it gets there.
The first fermentation process takes about 1-2 weeks. It is recommended that fermentation should take place in the dark but if that is not possible, at least make sure you keep your fermenting tea away from direct sunlight. I have noticed that during warm summer days kombucha is ready within a week, and also in a warm cupboard above the refrigerator the fermentation process is faster. So, the speed of the process depends on the surrounding temperature as well as the amount of tea and sugar. Also the thickness of your Scoby could have an effect on the fermentation. My advice is to taste the kombucha during the fermentation process and wait until it is ready for your liking.
Gradually during the fermentation process carbon dioxide is formed in the kombucha. This is what makes kombucha an effervescent and refreshing drink! If no bubbles are formed during the first fermentation, you can leave the drink at room temperature for 1-2 days after bottling, at which point bubbles should begin to form. A pinch of sugar in each bottle helps the kombucha to carbonate. If you don't like bubbles, then you should bottle and refrigerate the drink before carbonation starts. Fermentation and carbonation process continues in the fridge but at a much slower rate.
After the first fermentation it is time to add the flavours to your kombucha. It is completely voluntary, however. You can add the flavourings straight to the bottles, meaning you can try different flavours. Alternatively, you can season the whole batch with one flavour and add the flavourings into the fermentation jar after you have taken the Scoby and your next starter liquid aside. Let the flavours season the drink 1-2 days before you strain and bottle it.
I have mostly made ginger-lemon kombucha, and not tried many different flavours. I've tested raspberry-mint, which I enjoyed, as well as black currant, which I didn't like so much. Be creative and feel free to try different flavours and you will find your own favourite. Don't forget to let me know if you come up with a good one!
My personal tip is to bottle the kombucha while it's still slightly sweet. As I already mentioned, the fermentation continues in the fridge, which means the kombucha will lose some of its sweetness even in the refrigerator. This of course depends on how long your bottles will last in the fridge and what is your preference – sweet or less sweet!
With this recipe you will make about 4 litres of kombucha. I often double the recipe and use a 10 L plastic bucket. You can also start with a smaller amount. As a rule of thumb, use 60 g of sugar per 1 liter of tea and 100 ml of starter liquid per 1 liter of tea.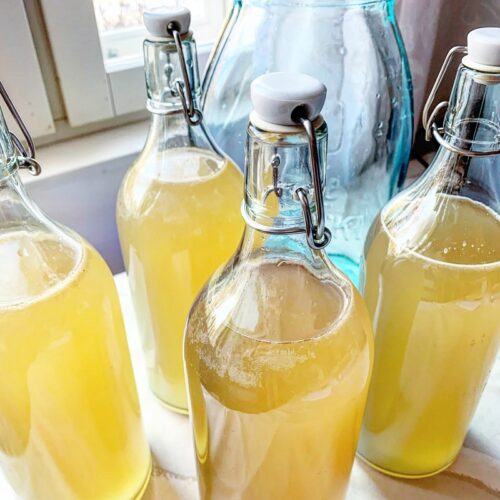 Kombucha
Equipment
Fermenting jar (or a plastic bucket suitable for food purpose)

Breathable cloth

Glass bottles
Ingredients
4

litres

water

2

tea bags

240

g

caster sugar

400

ml

starter liquid

1

Scoby
Flavouring suggestions
fresh ginger and lemon

raspberry and fresh mint
Instructions
Start with boiling the water in a large pan (or two smaller ones). Once the water has boiled, add the tea bags and let brew for 15-20 minutes. Remove the tea bags and add the sugar while the tea is still warm. Let the tea cool down to room temperature. I normally prepare the tea in the evening and let it cool over night.

It is important that all your equipment are clean. I sterilize my fermentation jar/bucket and bottles with boiling water before each time I use them.

Pour the cooled down tea into your fermentation jar or bucket, and add the starter liquid and Scoby to the tea. Cover the jar/bucket with a breathable cloth and secure with a rubber band. Leave it to brew at room temperature out of direct sunlight for 1-2 weeks.

Remember to taste your kombucha during the fermentation! I use a tablespoon and I gently remove the Scoby, that is forming to the top, aside so that I can get a spoonful of kombucha. If you want to get a second taste, don't use the same spoon, get a clean one. Or use a straw.

Once the kombucha is ready to your liking, take 400 ml of kombucha (starter liquid to your next batch) and place your mother Scoby and baby Scoby to a smaller glass jar with the starter liquid. Cover the jar with a cloth or paper towl and secure with a rubber band. Store in room temperature away from direct sunlight until next time.

At this point you can flavour your kombucha. You can add the flavourings straight to the bottles but then they will be stuck in the bottles unless you strain them later (after 1-2 days). I normally add the flavourings to the fermentation jar which means the whole batch will be of same flavour. I grate a 4-5 cm piece of fresh ginger and add it to the jar with a juice of one lemon. I leave it for 1-2 days to season and carbonate. I keep tasting it to get the right bubbliness. Once that is achieved I strain and bottle the kombucha.

Place bottles straight in the fridge unless you hope to achieve more bubbles. If so, leave the bottles in room temperature until you are happy with it. Open the corks once a day to let the gas out.