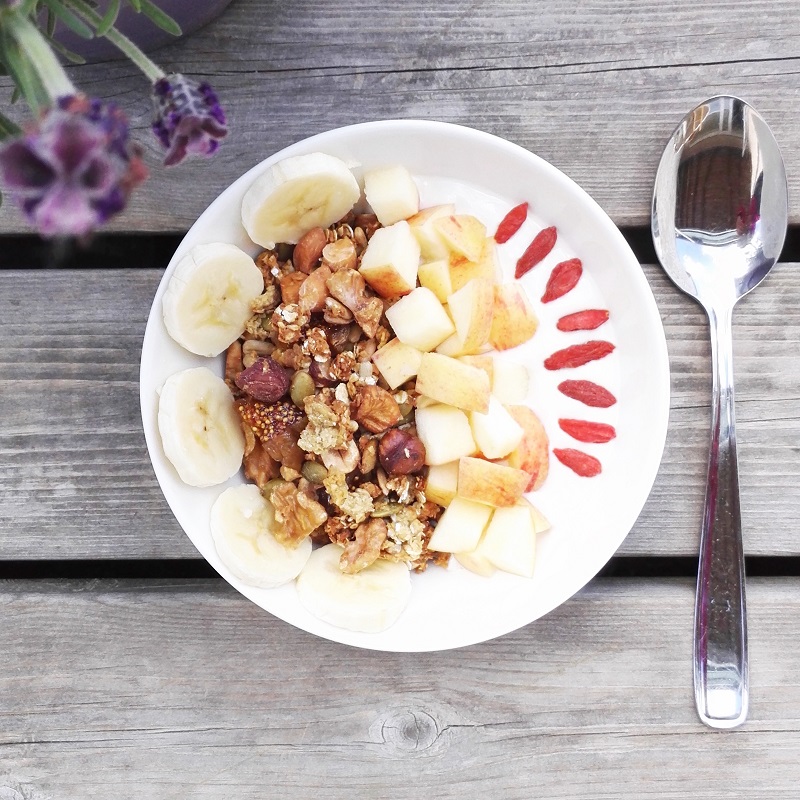 Recipe in Finnish / Resepti suomeksi
Healthy granola is a quick breakfast that keeps you satisfied for long, and it works as a snack too. Sprinkle granola over your yoghurt or smoothie bowl and add  some fruit or berries on top and there you have it – quick and healthy breakfast is ready!
Granola is often considered as a healthy breakfast alternative but most of the granolas in supermarkets are filled with sweeteners and fats to make it appeal to our taste buds and look more appealing. Unfortunately the healthier ones are often quite expensive. That is why you should make your own granola! It is so easy to make and you get to choose the ingredients you want in there!
Tips for making granola
You can make this granola gluten free, wheat free, nut free, sugar free – just the way you like it. With spices you can give the granola a little twist. It is roasting that makes the granola crispy. It only takes 10 minutes to put the granola together and about half an hour to roast it.
As a base I use oat flakes. If you want your muesli gluten free use gluten free oats and gluten free oat bran. I like using both seeds and nuts in my granola. Seeds are cheaper than nuts so I use more of sunflower and pumpkin seeds. But if you prefer nuts, go ahead and add more nuts to the recipe. The ratio is really up to you.
I like using honey in my granola but any other sweetener will work too. Use maple syrup if you want to make it vegan.
Only after the granola has been roasted and comes out of the oven, I add the dried fruit. My favourites are dates and figs. Raisins and apricots work well too. And why not add some banana or coconut flakes if you like.
This is a basic recipe that can be changed according to your taste and ingredients available. If you like cinnamon, add about a tea spoon of it into the dry ingredients before adding the liquid. Try some dried apple with it but only add the apple after the muesli has been roasted.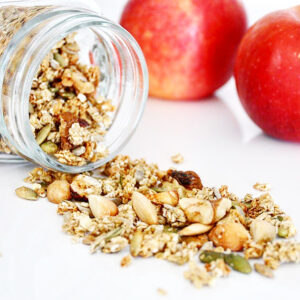 Healthy Granola
Ingredients
700

ml

oat flakes

200

ml

oat or wheat bran

300

ml

seeds (sunflower and pumpkin)

150

ml

nuts (almond, cashew, hazelnut)

200

ml

water

1

tsp

salt

2

tbsp

coconut oil

2

tbsp

honey or maple syrup if vegan

100

ml

dried fruit (date, fig, apricot, raisin)
Instructions
Chop the nuts into smaller pieces if you like. Also chop the dried fruit into smaller pieces. I like using scissor for this. Set the nuts, dried fruit and any other "toppings" aside for later.

Preheat oven to 150-175 C degrees.

Measure the oats, bran and seeds into a large mixing bowl.

Measure the water, salt, coconut oil and honey into a pot. Heat until salt and honey have dissolved.

Pour the liquid onto the dry ingredients and mix until all the dry ingredients have taken in some of the moisture. Easiest way to mix is to use your hand but a wooden spatula does the trick too. Add liquid if necessary. The granola should be moist enough to form small "granola lumps".

Spread the granola evenly onto a baking tray covered with baking parchment. Let the granola dry and roast first for about 15 minutes.

After 15 minutes or so add the nuts to the baking tray and mix in with the granola. It is good to give the granola also a little mix at this stage.

Roast the granola and nuts for another 15 minutes or so, until golden brown and dry throughout.

NOTE: Keep your eye on the granola and the oven temperature, as you don't want the granola too dark. Mix and turn the granola every 5-10 minutes towards the end of roasting to avoid burning.

Add the dried fruit and toppings once the granola has come out of the oven. You can add them while the granola is still hot/warm.

Let the granola cool down completely before putting it into a jar to store it.